HD
film • video • photography
Most of us love motion pictures. While I was always keen on learning how to make movies, it was not until we moved to Santa Fe that the possibility became a reality. New Mexico has abundant facilities, resources, training and a legacy of filmmaking that goes back to Thomas Edison.
In our day, the majority of art is appreciated via the technology of high definition. Therefore it became not just an artistic ambition but a practical decision that made both Phoenix and myself enroll in film school. We have graduate level certificates in film production, and since 2008, have produced several of our own projects as well as worked above-the-line on dozens of others.
Whatever medium of art one has to offer, HD is the means by which to share it. With the help of this technology, our creations can reach the global community.
READ MORE
About the making of Open Channel Content films
No Results Found
The page you requested could not be found. Try refining your search, or use the navigation above to locate the post.
No Results Found
The page you requested could not be found. Try refining your search, or use the navigation above to locate the post.
No Results Found
The page you requested could not be found. Try refining your search, or use the navigation above to locate the post.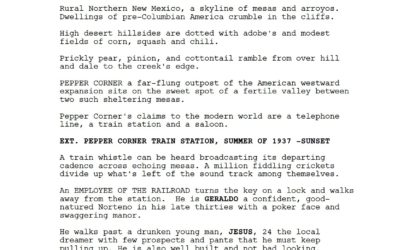 Pepper Corner is a far-flung outpost of the American westward expansion sitting on the sweet spot of a fertile valley between two such sheltering mesas.
read more
If we in the audience were, up to this point, able to surf around the unseemly circumstances of the characters in the movie and cling to some shred of erotic stimulus from the earlier setups, both filmmakers rake them out of your fists, unequivocally in their Act III climax when human acts grossly defy common sense.
read more
Man in the Machine – Sci Fi Cinema
There is such a thing as mental pollution and that is what our children must be protected from at an early age. Adults are able to filter those toxins but not children. I was kept away from violently gruesome films until after my mid-teens. Maybe that's why I can keep my peace. Perhaps others can't because they were exposed too early.
read more
Gilliam's screenplay descends from last century storytellers, such as Franz Kafka, and George Orwell whose clairvoyant visions gave us today's headlines fifty to a hundred years in advance.
read more
Sam was not interested in getting out of his situation except in dreams and even that was a selfish scheme. When the woman of his fantasies walks right out of them into real life and she turns out to be a free thinker, Sam never asks her why.
read more
Film is a migration of light, continually on the move, transforming with the times.
read more
"Through dreaming you have the opportunity to tolerate some of the unchangeable hardships of life." Abbas Kiarostami
read more
Politicians and news reporting agencies are just another bunch of storytellers. Cinema makes us a better deal. It provides us the most factual history. Because it doesn't rely on actual names or accounts to sharpen our sense of what is false and what is real.
read more
seven greatest films ever made
Tarkovsky would say the experience of the present is elusive, a slippery one where anything could yet develop. The past is certain, it is therefore more solid. Evidently even a sculptor in time seeks something substantial for his chisel.
read more
In "Andre Rublev", Tarkovsky's application of the theater of cruelty is fashioned to nourish pity, tug at the heart and urge us toward compassion and harmony. He intends for me to empathize with his victims.
read more
…As in a mirror, an icon, a riddle. I see life eternal which is nothing less but that blessed regard, that gaze of love that never ceases to behold me even in the most secret places of my soul." Cusanus (1401-1464)
read more
Santa Fe Film Festival Press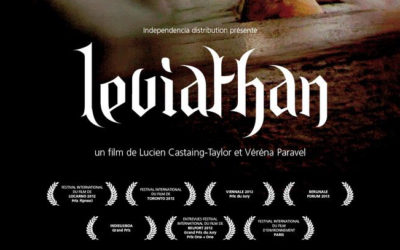 "Leviathan", screening at the Santa Fe Film Festival this year, is a highly effective horror film made all the more so without a clear beginning, middle or end, because what we witness goes on in real life, day after day after day. With the preponderance of...
read more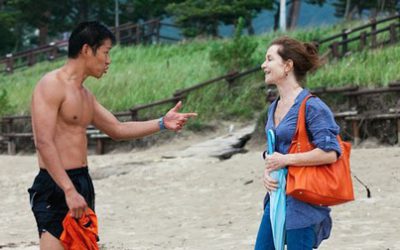 "In Another Country" (2012) by Hong Sang-soo is about the emotions we all share but not exactly in the same native tongue. Through three travelers' excursions in a picturesque seaside village, it asks if we can ever really be home in the inner landscape of another....
read more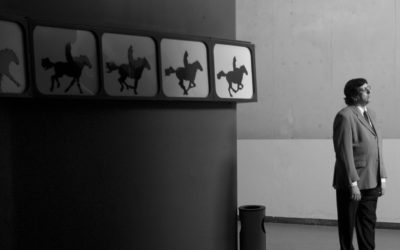 "A Useful Life" by Federico Vieroj is a 67 minute mini-feature that focuses on a major turning point in the life of Jorge, the curator of a small art house cinema in Montevideo, Uruguay. Vieroj's movie is about the fate of film in a digital world and an adoring ode to...
read more