The likeliest segue that I can summon for this occasion, is to introduce the larger than life fantasy figures that I have been sculpting for the past decade. These sculptures came about out of a need to get rid of some excess boughs.
Every year, for fire safety, I trim the Chamisa bush back away from my house. The loose slash must either be strapped to a vehicle and carted off, or it must be made useful.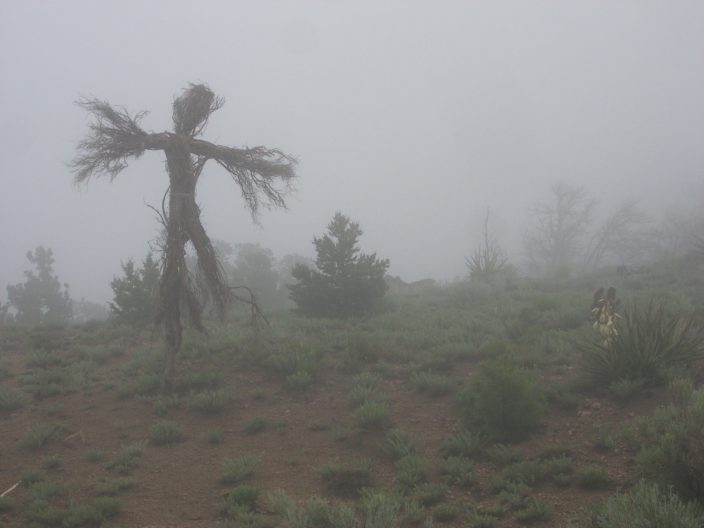 I'm giving the definition of "useful" a pretty broad interpretation here.
However, in another dispatch, we will visit the shelter project we have undertaken since the fall in which we will demonstrate the viability of constructing quality shelter from the same native shrub, for survival through all four seasons, in high altitude.
Many seasons have passed since these native shrubs first began to be transformed into magical allies and indigenous dwellings here. Now, pretty much everywhere you look around this place you're going to find one. They have accumulated. This is partly because, like the shrubs themselves, of which they are kin, the figures are incredibly enduring. The one in the above photo has stood outside for ten years and looks as good as day one.
This work is intended to engage your magical child. Be the first to invest your personal myth into my 3D image. Or give it a name, in your story, one that only you can reveal. It's incredible how these figures seem to be real, breathing beings. Is it the landscape itself imparted in the sculptures that imbues them with such personality?
Forces of our imagination will want to always make these collections of boughs and wire into living, interacting magical beings. It's the same part of the brain that our ancestors fabled in. I am merely cutting a shrub, rearranging it and making them stand again.
So you come across one of these larger than life figures in the southwest lands, which lend such mythological context and you say, hey, is this real, like some kind of spirit god or goddess, ally or totem figure that watches over this place? Surely this must have a magical purpose. What else could explain its existence?
The rest is up to you. For my part, I'm just waging war on weeds.
Well, you can't blame me. My dog has a lush coat that is prone to snag every type of bract, burr, head-o-goat, you name it, whatever. I have had to painstakingly, remove the cling-ons, one-by-one, on more than one occasion, before I calculated it would take less time, and trouble, to pick those suckers out by the roots from the rubble, than tugging and tweezing it out of my dog's coat every time he runs through the stuff.
Sometime after a late spring rain, I'll go out and root out every horehound in sight. The first time I did it this I filled six wheelbarrows. Enough to construct this sculpture. People say it bears an uncanny resemblance to my dog.